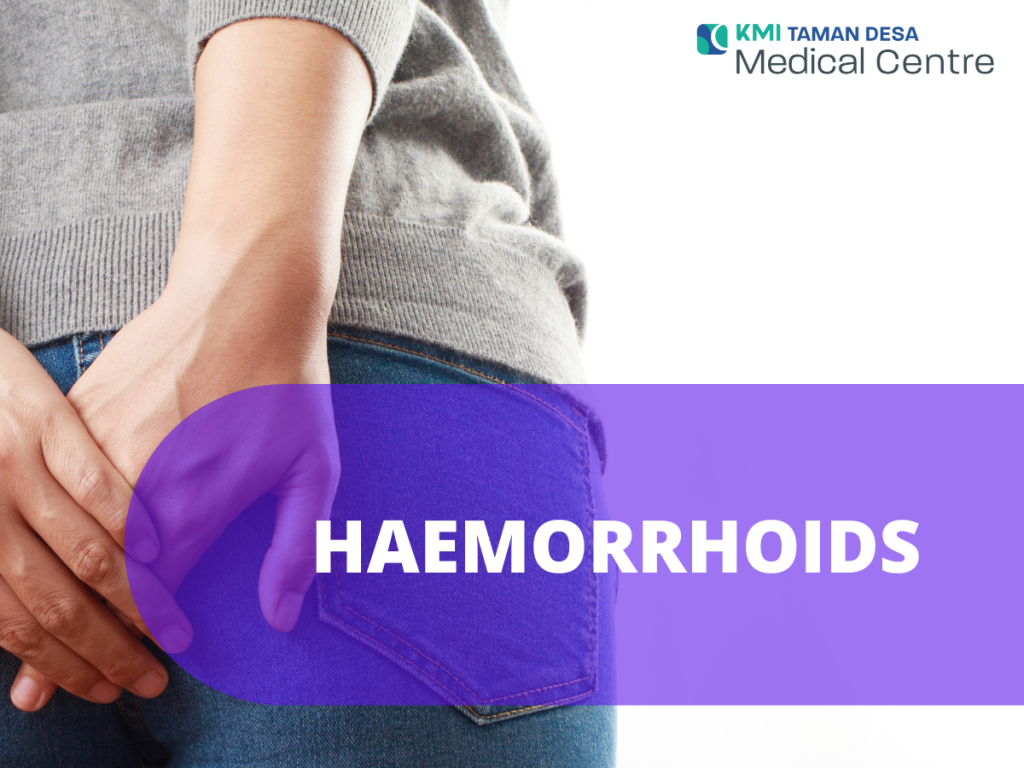 INTRODUCTION
Haemorrhoids are swollen, enlarged veins that form inside and outside the anus and rectum.
Most common anorectal disorders with a reported prevalence of 4.4% up to 36.4% of general population1.
Peak prevalence occurs between 45 and 65 years of age2,3.
One-third of patients affected by hemorrhoids seeks medical advise4,5.
5%-10% of patients suffering from hemorrhoids do not respond to conservative treatments, so surgical procedures become the treatment of choice in such cases6.
DEFINITION
Abnormal dilatation and distortion of the vascular channel, together with destructive changes in the supporting connective tissue within the anal cushion1.
An inflammatory reaction7 and vascular hyperplasia8 may be evident in hemorrhoids.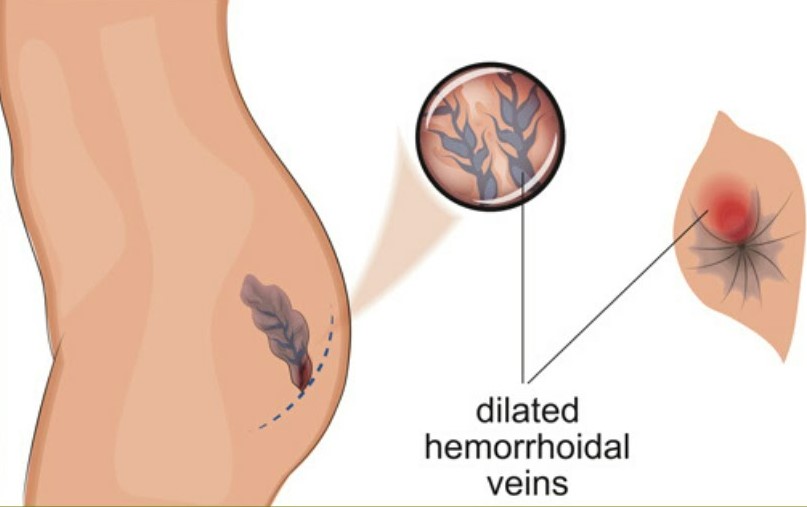 EPIDEMIOLOGY
Age and sex: increased with age, equal both sexes. Female common during pregnancy and childbirth.
45 to 65 years of age2,3.
Geographical distribution and race: Common in urban population and developed countries.
Diet: Higher in low fiber intake.
Socio-economic status: Higher with high socio-economic group.
Genetic predisposition: 50% have positive family history.
Clinical Features
Haemorrhoids are presented clinically by a prolapsed lump which may require manual reduction or is constantly prolapsed.
Perineal discomfort or discharge.
Mass protruding from anus.
Goligher's Classification
Depends on the degree of prolapse into:
1.Anal cushions bleed without prolapse.
2.Anal cushions prolapse on straining but reduce spontaneously.
3.Anal cushions prolapse on straining or exertion and require manual reduction.
4.The prolapse is irreducible and remains out all the time.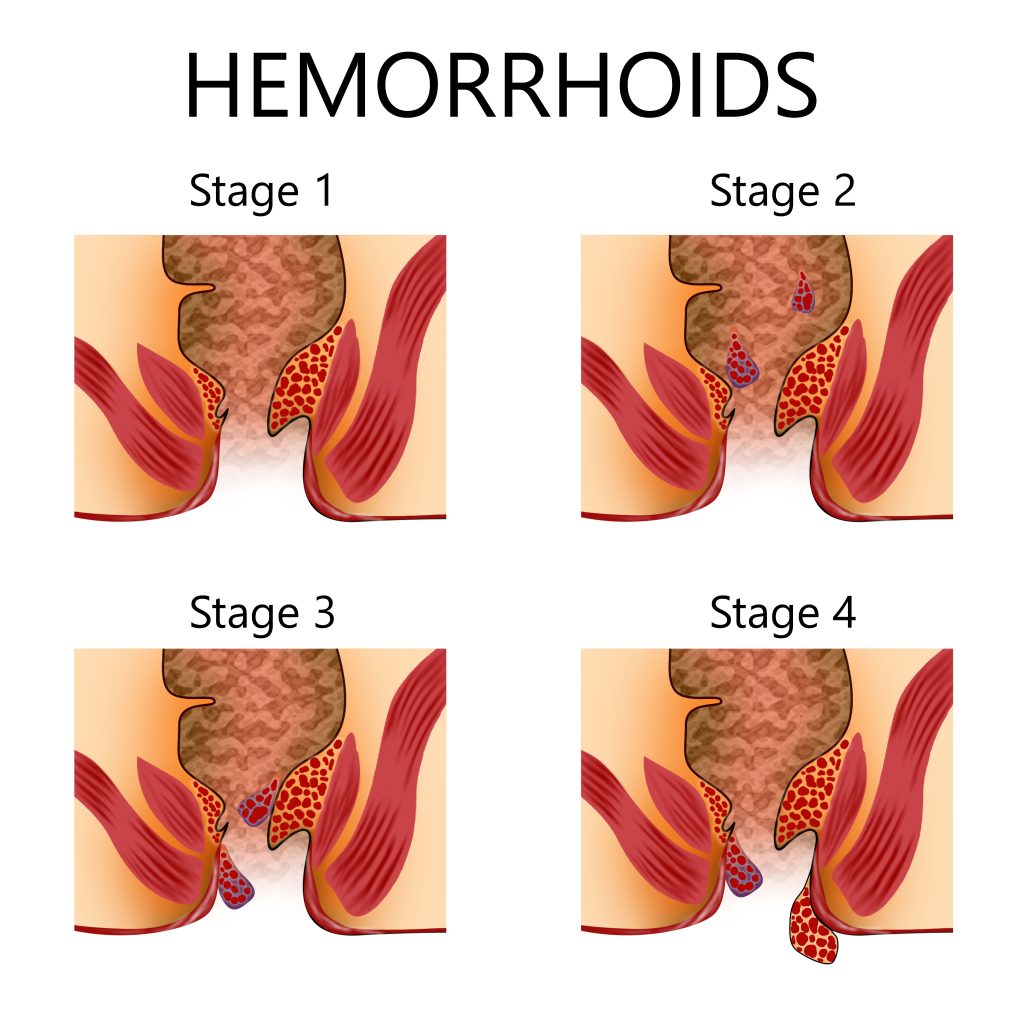 Treatment:
Aim :
1.To reduce pain.
2.Improve quality of life.
3.To reduce the morbidity affecting daily living activities.
Non operative versus operative procedures.
Outpatient procedures /Day Care procedures.
Grade 1 and Grade 2
Conservative management.
1.) Life style modification.
– Avoid prolonged straining.
– Diet and bulk forming agents.
– Increase oral fluids intake.
– Improve anal hygiene.
2.) Oral medications
i) Micronized Purified Flavonoid Fraction is composed of 90% Diosmin and 10% Hesperidin (Dafflon).
– Efficacy in the treatment.
– Most common drug, phlebotonic activity.
– Meta analysis of 14 RCTs, role of flavonoids concluded that limitations in methodological quality, heterogeneity and potential publication bias raise questions about the apparent beneficial effects9,10,11
ii) Calcium Dobesilate.
-It improves the response of symptomatic acute attacks.
3.) Topical treatment.
i) Topical preparations that contain low-dose local anesthetics, corticosteroids, keratolytic, protectants, or antiseptics.
Note: Chong et al12, noted that well-designed studies have found no evidence to support the use of any of the myriad of over-the-counter topicals12.
– To relieve symptoms.
– Long term usage of steroids is detrimental.
OUTPATIENT PROCEDURES
ASCRS Guidelines for Management of Haemorrhoids (2010)
– Evidence 1b, Grade 1,2 and 3 haemorrhoids do not respond to conservative management but more to outpatient procedures.
Principles:
– Decrease blood flow.
– Reduce redundant tissue.
– Fix haemorrhoid to the underlying tissue to reduce prolapse.
1.) Rubber Band ligation
2.) Sclerotherapy
3.) Infrared coagulation
4.) Radiofrequency coagulation
5.) Cryosurgery
6.) Laser surgery
1.) Rubber Band Ligation (RBL)
A simple and quick means treating grades 1 and 2 haemorrhoids.
Method: place tight rubber band around prolapsing cushion to ligate the redundant rectal mucosa just above the internal hemorrhoids (at least 1.5 cm above dentate line) as many sites as required in a single session.
More than 1 band can be done and may need multiple sessions.
Band at dentate line & below: intense pain and need to remove the rubber band.
Warn patient that some bleeding can occur at 5-10 days.
Success rate: 80-89% with recurrence rate of 68% in 4-5 years13.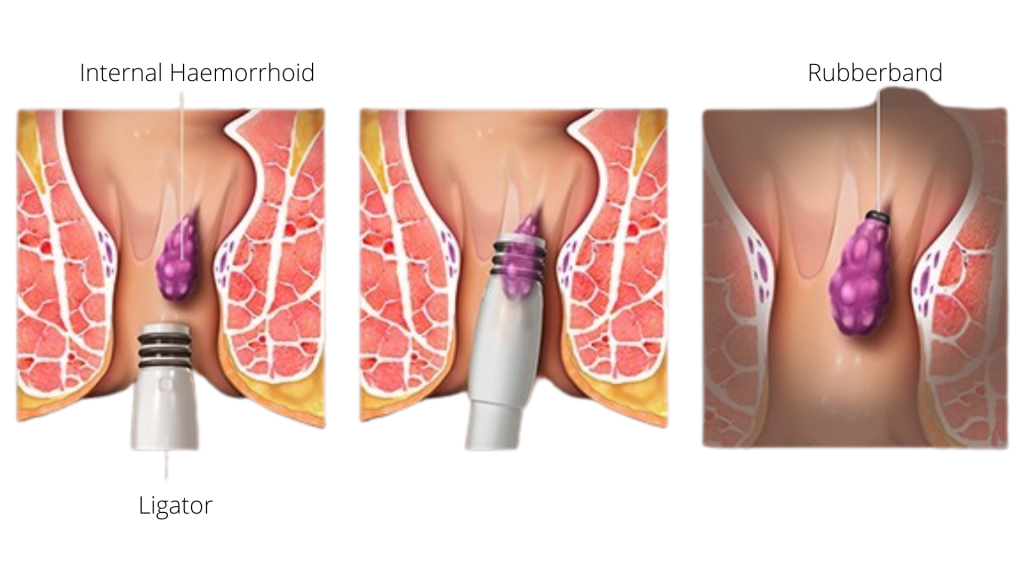 2.) Sclerotherapy
Formerly was the treatment of choice for grades 1 and 2 haemorrhoids.
Agent: 5% phenol in almond or arachis oil.
Uses long injecting needle and proctoscope with 3-5 ml of sclerosant agent into submucosa above dentate line at each haemorrhoid.
Aim: produce fibrosis and reduce degree of prolapse.
Inject too superficial: ulceration.
Inject too deep: ineffective, injury to prostate (painful erection), seminal vesicles (hemospermia) and perirectal sepsis.
Results: 30% had minor complications; 30% required further treatment in the 24 months after the initial procedure, and 8% were symptom-free at four years14.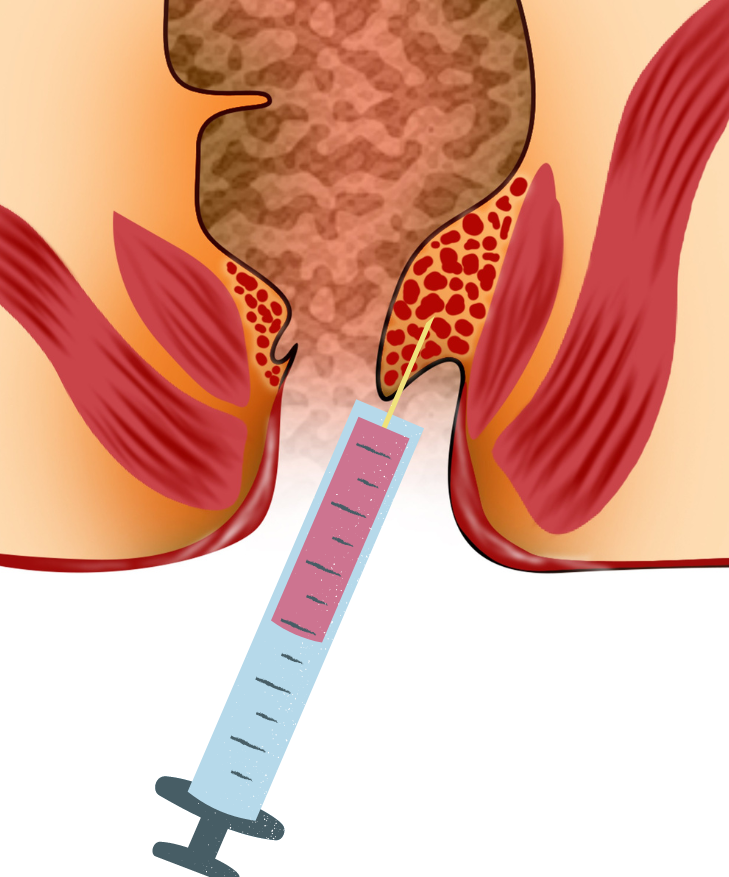 3.) Infrared Photocogulation
Applying a flat tip probe proximal to the hemorrhoidal tissue.
Giving 3 to 4 pulses of infrared energy to the normal mucosa to cause tissue destruction, protein coagulation, and inflammation, which then leads to scarring and tissue fixation.
May need several visits at monthly intervals as only one section of the haemorrhoids is treated per visit.
Advantages of infrared coagulation include being quick, painless, effective with a low rate of complications, and with a rapid return to work.
2 RCTs reported success rates of 67% and 96% of this procedure15,16.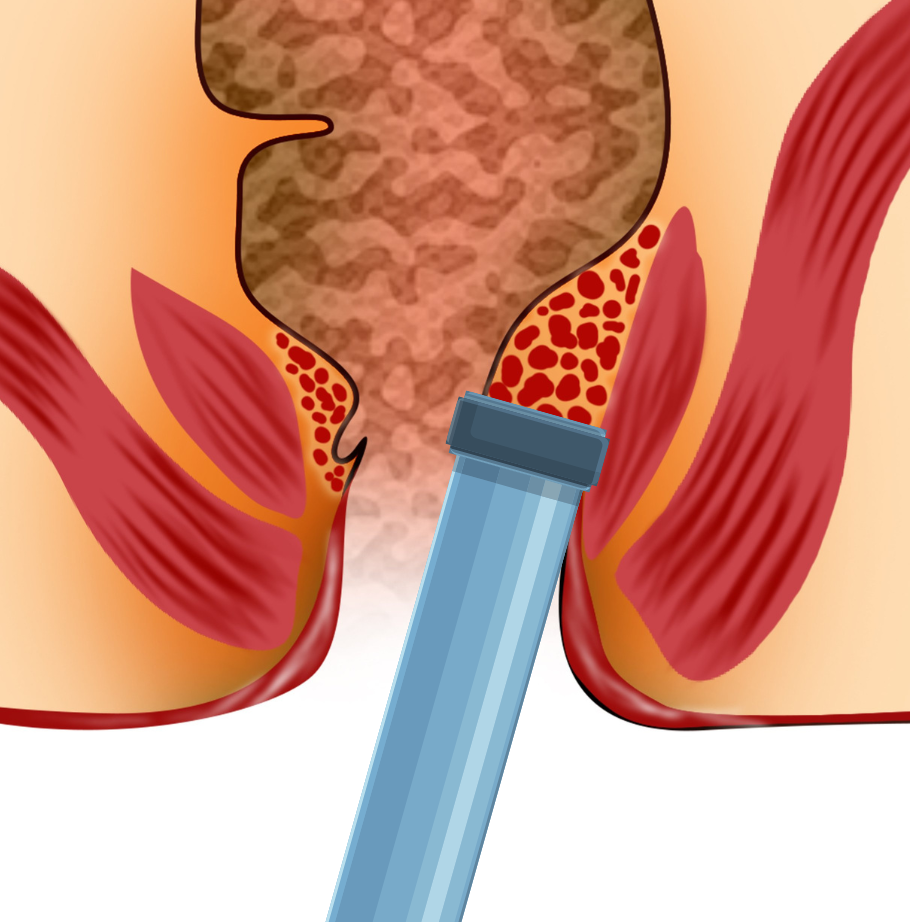 4.) Cryosurgery
Uses very low temperature to create water crystals within the cells resulting in destruction of the cell membrane and eventually the tissue.
Lead to less pain by freezing the sensory nerve ending.
Lengthy procedure, other disadvantages included profuse discharge, prolonged recovery, and late return to work5.
5.) Bipolar diathermy and direct-current electrotherapy
Local heat application to induce coagulation .
Success rates of both methods have been reported by several studies to be comparable to those of infrared coagulation with low rate complications16.
6.) Laser therapy/photocoagulation
Nd:YAG laser was first utilized in anorectal surgery in the 1960s.
Outcomes have improved later with the advent of the CO2 laser and the development of the pulsed and the scanned laser.
Plapler et al, in their study of 350 patients treated with CO2 laser open haemorrhoidectomy reported that laser therapy resulted in less postoperative pain and a better cosmetic scar when compared with conventional surgery17.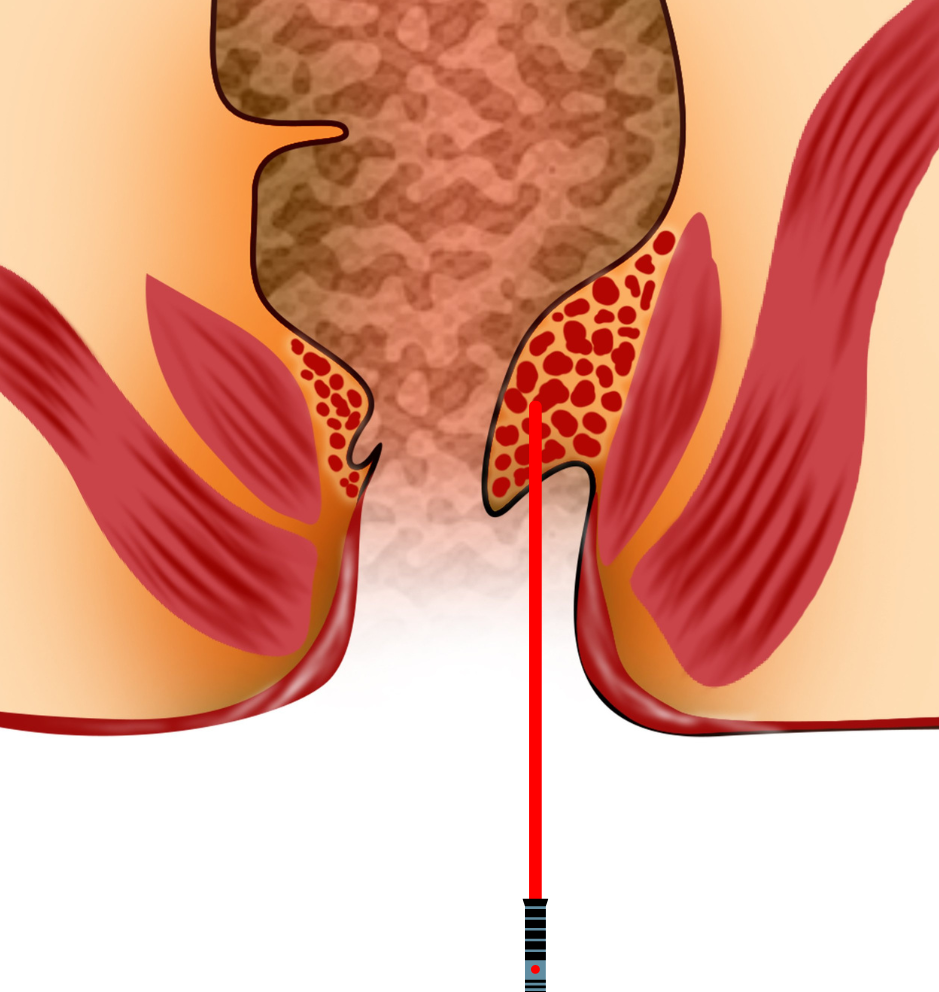 Grade 3 and 4 Haemorrhoids
Surgery
Indications:
Haemorrhoids are severely prolapsed and require manual replacement.
Patients fail to improve after multiple applications of nonoperative treatments.
Haemorrhoids that are complicated by associated pathology, such as ulceration, fissure, fistula, large hypertrophied anal papilla, or extensive skin tags.
Bleeding is the primary problem.
Treatment Options
Haemorrhoidectomy
Haemorrhoidectomy is considered to be the most effective treatment modality for hemorrhoids with the lowest recurrence rate as compared to other modalities.
Principle:
Excision of prolapsing anal cushions (excise in the plane outside internal sphincter) while maintaining mucocutaneous continuity between area of excision.
Marked post-operative pain.
Post-operative pain may results from sphincter spasm, damage to nerve endings, insertion of hemostatic gauzes and damage to the mucosa.
Conventional Haemorhoidectomy (CH).
1.) Milligan–Morgan Procedure (Open)
2.) Ferguson Technique (Closed)
LigaSure haemorrhoidectomy.
Harmonic scalpel haemorrhoidectomy.
Submucosal haemorrhoidectomy(Technique of Parks).
Haemorrhoidal artery ligation (HAL).
Stapled haemorrhoidopexy.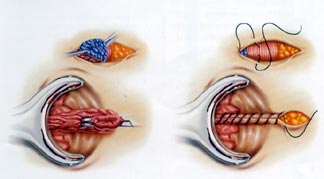 LigaSure Haemorrhoidectomy
LigaSure vessel sealing system® (Valleylab, Tyco Health Care Group) is a method that uses a bipolar electrothermal device for without the need for sutures.
(Sutureless haemorrhoidectomy)
Aim:
– Avoid painful diathermy burns.
-Allow better tissue adhesions at the wound site.
– Decrease post operative haemmorhage.
Meta-analysis of articles published between January 2000 and September 2009, and RCTs showed superiority of LigaSure haemorrhoidectomy (LH) versus CH regarding operation time, the incidence of postoperative pain and urinary retention, as well as the time required to resume normal physical activity18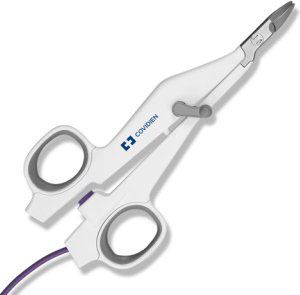 Harmonic scalpel haemorrhoidectomy
Harmonic scalpel® (Johnson and Johnson Medical KK, Ethicon Endo-Surgery, Cincinnati, OH) is an ultrasonically-activated instrument, which vibrates at a rate of 55000 MHz per second.
Ability to coagulate small- and medium-sized vessels by converting electrical energy to a mechanical one.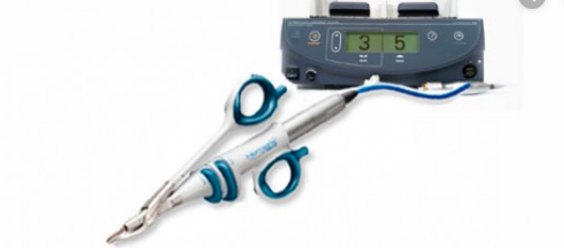 Submucosal haemorrhoidectomy (technique of Parks)
Developed by Parks19, who published results and details of the technique in 1956.
Designed to reduce postoperative pain and avoid anal and rectal stenosis.
Obsolete as complications are higher including longer surgical time, higher recurrence and increased post operative bleeding.
Hemorrhoidal Artery Ligation (HAL)
(HAL) with or without anopexy is a non-excisional procedure aiming at reduction of symptoms of haemorrhoidal disease by reducing the blood flow to the hemorrhoids.
Localization of the hemorrhoidal arteries may facilitated by using the Doppler probe.
Systematic review of 17 studies on 1996 patients with haemorrhoidal disease treated with HAL showed recurrence of bleeding and prolapse in 6.3% and 7.8% of patients respectively20.
Stapled haemorrhoidopexy
In 1998, Longo21 proposed the use of a specially designed circular stapler (Ethicon Endo-Surgery, Inc) for treatment of grade III and grade IV haemorrhoids.
Aims at reducing the haemorrhoidal prolapse by excising a complete ring of mucosa above the dentate line and fixing the hemorrhoids to the distal rectal muscular wall leading to repositioning the hemorrhoids into the anal canal.
Transecting the superior haemorrhoidal arteries, which reduces the venous engorgement by transection of the feeding arteries resulting in reduction of the size of the hemorrhoids.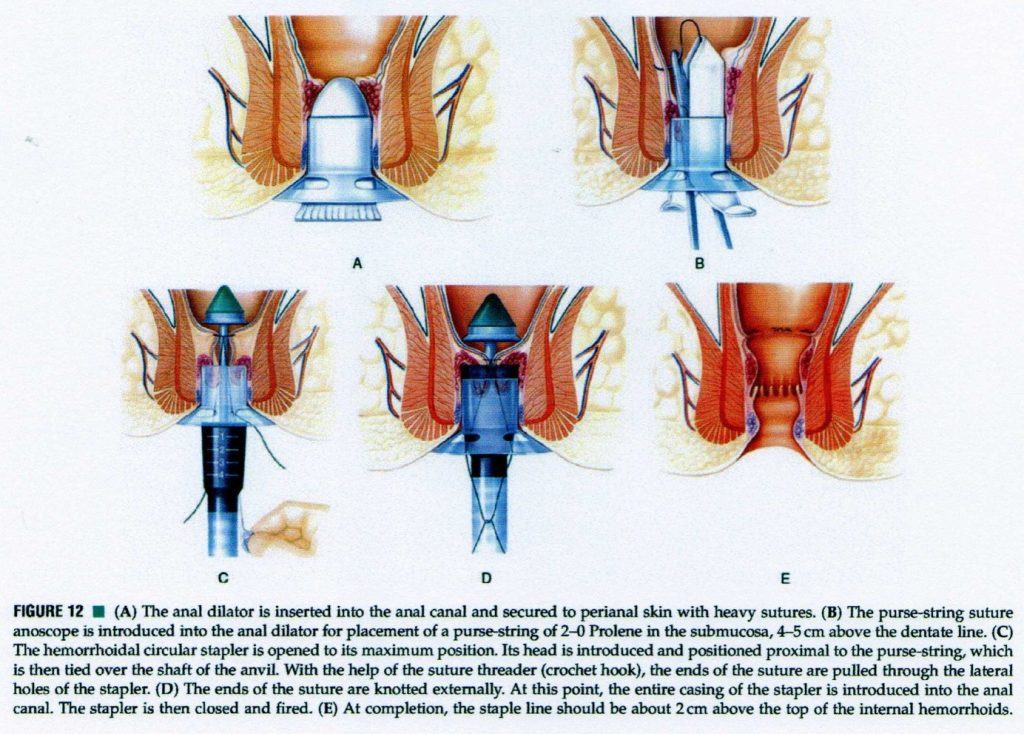 CONCLUSION
Haemorrhoid – it the most common Ano-rectal conditions.
Prepared by:
Consultant General & Laparoscopic Surgeon
KMI Taman Desa Medical Centre
REFERENCES
1.Loder PB, Kamm MA, Nicholls RJ, Phillips RK: Haemorrhoids: pathology, pathophysiology and aetiology. Br J Surg. 1994;81:946-954.
2.Johanson JF, Sonnenberg A. The prevalence of hemorrhoids and chronic constipation. An epidemiologic study. Gastroenterology. 1990;98:380-386.
3.LeClere FB, Moss AJ, Everhart JE, Roth HP. Prevalence of major digestive disorders and bowel symptoms, 1989. Adv Data. 1992;24:1-15.
4.Cataldo P, Ellis CN, Gregorcyk S, Hyman N, Buie WD, Church J, Cohen J, Fleshner P, Kilkenny J, Ko C. Practice parameters for the management of hemorrhoids (revised). Dis Colon Rectum. 2005;48:189-194.
5.Madoff RD, Fleshman JW. American Gastroenterological Association technical review on the diagnosis and treatment of hemorrhoids. Gastroenterology. 2004;126:1463-1473.
6.Arroyo A, Pérez F, Miranda E, Serrano P, Candela F, Lacueva J, Hernández H, Calpena R. Open versus closed day-case haemorrhoidectomy: is there any difference? Results of a prospective randomised study. Int J Colorectal Dis. 2004;19:370-373.
7.Morgado PJ, Suárez JA, Gómez LG, Morgado PJ. Histoclinical basis for a new classification of hemorrhoidal disease. Dis Colon Rectum. 1988;31:474–480.
8. Aigner F, Gruber H, Conrad F, Eder J, Wedel T, Zelger B, Engelhardt V, Lametschwandtner A, Wienert V, Böhler U, et al. Revised morphology and hemodynamics of the anorectal vascular plexus: impact on the course of hemorrhoidal disease. Int J Colorectal Dis. 2009;24:105–113.
9.Labrid C. Pharmacologic properties of Daflon 500 mg. Angiology. 1994;45:524-530.
10. Struckmann JR, Nicolaides AN. Flavonoids. A review of the pharmacology and therapeutic efficacy of Daflon 500 mg in patients with chronic venous insufficiency and relatedrders. Angiology. 410
11.) La Torre F, Nicolai AP. Clinical use of micronized purified flavonoid fraction for treatment of symptoms after hemorrhoidectomy: results of a randomized, controlled, clinical trial. Dis Colon Rectum. 2004;47:704-710.
12.) Chong PS, Bartolo DC. Hemorrhoids and fissure in ano. Gastroenterol Clin North Am. 2008;37:627-644, Ix.
13.) Nazir A, Fazulul Q. Comparative Study of Multiple Versus Single Rubber Band Ligation for Internal Hemorrhoids. JK science. 2003;5:15-17.
14.) MacRae HM, McLeod RS. Comparison of hemorrhoidal treatment modalities. A meta-analysis. Dis Colon Rectum. 1995;38:687-694.
15.) Johanson JF, Rimm A. Optimal nonsurgical treatment of hemorrhoids: a comparative analysis of infrared coagulation, rubber band ligation, and injection sclerotherapy. Am J Gastroenterol. 1992;87:1600-1606.
16.) Dennison A, Whiston RJ, Rooney S, Chadderton RD, Wherry DC, Morris DL. A randomized comparison of infrared photocoagulation with bipolar diathermy for the outpatient treatment of hemorrhoids. Dis Colon Rectum. 1990;33:32-34.
17.) Plapler H, de Faria Netto AJ, da Silva Pedro MS. 350 ambulatory hemorrhoidectomies using a scanner coupled to a CO2 laser. J Clin Laser Med Surg. 2000;18:259-262.
18.) Jinn C, Jeng Y. Treatment for Hemorrhoids -Systematic Review and Meta g Gung Med J. 2010;33:488-50
19.) Parks AG. The surgical treatment of haemorrhoids. Br J Surg. 1956;43:337-351.
20.) Giordano P, Overton J, Madeddu F, Zaman S, Gravante G. Transanal hemorrhoidal dearterialization: a systematic review. Dis Colon Rectum. 2009;52:1665-1671
21.) Longo A. Treatment of hemorrhoids disease by reduction of mucosa and haemorrhoidal prolapse with a circular suturing device: A new procedure. 1998;
22.) Burch J, Epstein D, Sari AB, Weatherly H, Jayne D, Fox D, Woolacott N. Stapled haemorrhoidopexy for the treatment of haemorrhoids: a systematic review. Colorectal Dis. 2009;11:233-243; discussion 243.