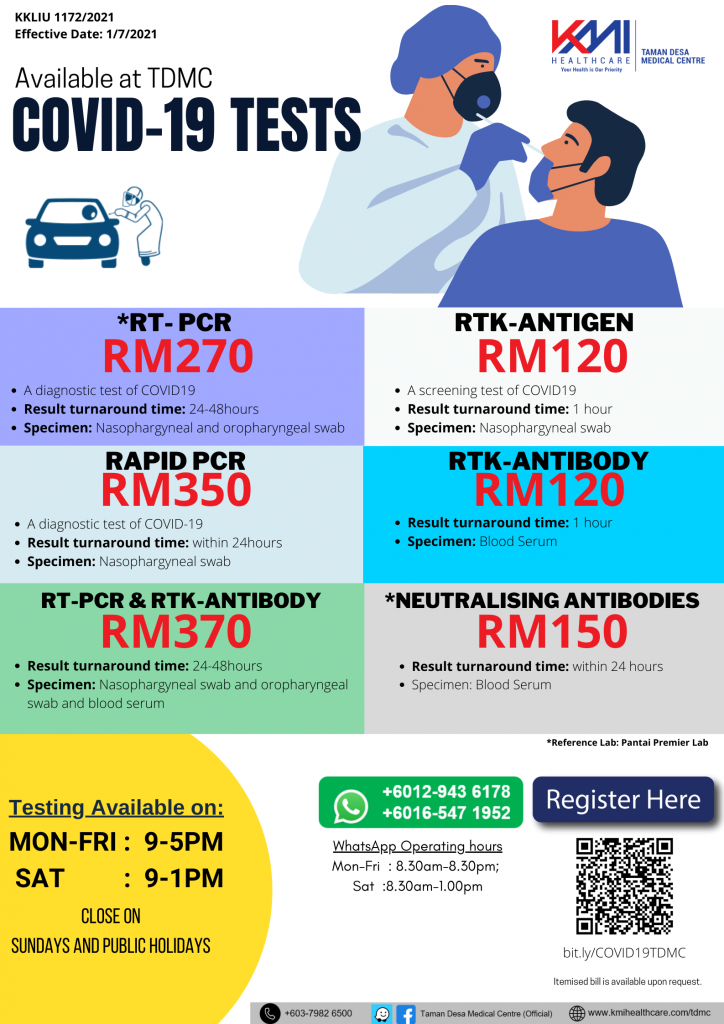 [𝗔𝗡𝗡𝗢𝗨𝗡𝗖𝗘𝗠𝗘𝗡𝗧]
COVID-19 SCREENING SERVICES -AVAILABLE AT TDMC Effective from: 1/7/2021
𝐂𝐎𝐕𝐈𝐃-𝟏𝟗 𝐓𝐄𝐒𝐓𝐒
1) RT-PCR (Real Time PCR) -RM270
2) RTK-ANTIGEN (Rapid Test Kit-Antigen) -RM120
3) RTK-ANTIBODY (Rapid Test Kit-Antibody) -RM120
4)
RAPID MOLECULAR -RM350
5) RAPID PCR – RM350
6) NEUTRALISING ANTIBODIES (QUANTITATIVE) – RM150
𝐓𝐄𝐒𝐓 𝐀𝐕𝐀𝐈𝐋𝐀𝐁𝐈𝐋𝐈𝐓𝐘:
Monday to Friday: 9am-5pmSaturday : 9am-1pm(𝗖𝗹𝗼𝘀𝗲 𝗼𝗻 𝗣𝘂𝗯𝗹𝗶𝗰 𝗛𝗼𝗹𝗶𝗱𝗮𝘆𝘀 𝗮𝗻𝗱 𝗦𝘂𝗻𝗱𝗮𝘆𝘀)
𝐀𝐏𝐏𝐎𝐈𝐍𝐓𝐌𝐄𝐍𝐓 𝐁𝐀𝐒𝐈𝐒:Appointment can be done via the following several channels
:
Link- bit.ly/COVID19TDMC
WhatsApp at
Please note that the above 2 numbers are not hotlines. Any enquiries, our WhatsApp service is available on: Monday to Friday 8:30am-8:30pm; Saturday 8:30am-1:00pm. Drivethru only available from Monday to Friday 9am to 5pm.
𝐓𝐡𝐚𝐧𝐤 𝐲𝐨𝐮 𝐟𝐨𝐫 𝐲𝐨𝐮𝐫 𝐜𝐨-𝐨𝐩𝐞𝐫𝐚𝐭𝐢𝐨𝐧!